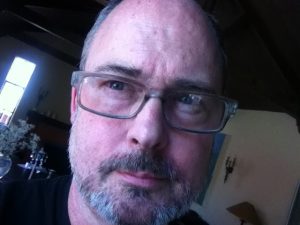 Mark has been a potter, a painter, a writer; a computer graphics pioneer, video artist, filmmaker, music video director, theme park show director, museum exhibit media producer.  When not working, he's an avid scuba diver, skier, basketball player and father.
He makes what he makes not to have a product to sell or a brand to brandish, but because an idea stirs him up inside, and he wants to get it out; the marketplace decides whether it pops or not.  That leads to a lot of orphaned projects, but hey, that's life.
His illustrated book,
THE NO BACK DOWN WOMAN
was born out of an exhibit he made for the National Park Service, at the Lewis and Clark Museum in Great Falls Montana.  Research uncovered little-known accounts of extraordinary lives lived big, and at full-bore.  Most of all, the tragedy of how the Mandan tribes opened their arms to welcome the Americans, only to be repaid in a smallpox epidemic that destroyed them, struck hard, and stuck in his head, and his heart.  He made dozens of paintings and hundreds of sketches before deciding the story was too big to fit in a rectangle, so he wrote and illustrated this novel.  He hopes you find it a good read, and an enlightening look into America's roots.